About Rainbow Vacuums
Rainbow water-filtered vacuums remove dust from the air, which is great for allergies and respiratory problems. This Rainbow vacuum is used in hospitals. It's incredible how much dirt this machine picks up, even from a "clean" house!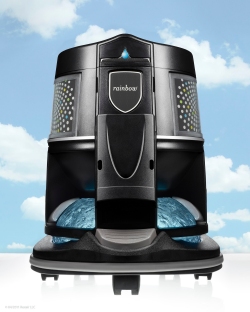 The Rainbow is certified
asthma & allergy friendly™ by the Asthma and Allergy Foundation of America.
The floor, the furniture, even the air you breathe is cleaner and healthier thanks to the Rainbow's cutting edge technology and nature's own cleaning solution: water.
More about
Rainbow
vacuums.
The Rainbow uses Mother Nature's most powerful element, water, to trap dirt and odors, returning only naturally clean, water-washed air to your home environment.
This unique water filtration system captures typical household dirt, while remaining microscopic particles are caught by our HEPA Neutralizer Filtration System. This two-stage filtration combination removes nearly 100% of dirt and contaminants from your home.