Eco-Friendly Products
Eco-Cleaning
means we use environmentally friendly products. Eco-friendly products are products that do not harm the environment. Natural and fragrance-free products also are much less likely to cause allergic reactions. Natural products are simple, well-known and human-friendly things like lemon juice, baking soda, vinegar, borax, salt.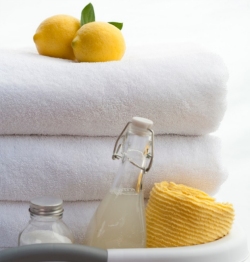 Some people have allergic reactions to various chemicals and fragrances.
We carry a complete stock of natural products that do not irritate skin, eyes or airways and do not set off allergies.
We also carry a stock of commercial products such as plain old Clorox bleach, degreasers, Windex and others. We will use products of your choice.
Some of our products include: Vinegar, Lemon Juice, Baking Soda, Murphy's Oil Soap, Bon Ami Cleanser, Seventh Generation, Greenworks.